SAVETIX® – turns screws into captive fasteners.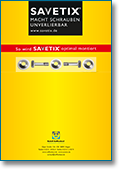 » Download instructions

On 29.12.2009 the old Machinery Directive 98/37/EC was superseded by the new EU Machinery Directive, 2006/42/EC, which is now binding. So there's no time to lose: those protective guards need fixing to meet Annex 1.4.2.1 of the Directive using Savetix® washers and corresponding Savetix® screws.
Only manufacturers and importers that have modified their machines according to the Machinery Directive 2006/42/EC Annex 1.4.2.1 can attach the CE sign to them after 2010.
Captive screws, the captive screw and captive fasteners are some of the many names for Savetix®.
To keep your machine in line with EU Machinery Directive 2006/42/EC, we can supply you with Savetix®.
SAVETIX® Quality Standard
Safety, quality and know-how from certified manufacturer Rafflenbeul.
Captive screw technology in compliance with EU Directive 2006/42/EC.
Play safe, use Savetix® captive screw technology:
fit fast, hold fast!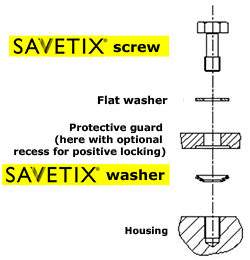 Of all the captive screws available, Savetix® is the only product that is designed for more than 30 years of use. The remarkably simple fastener design even convinces the layman because Savetix® captive screws simply work, immediately and for ever. The combination of screw and washer blends two fastening elements into a single product that is not only fit for the purpose as a fastening solution, it also means you can continue selling your machine after 2010.